Chinese dissident artist
Anne Applebaum is an American-Polish journalist and Pulitzer Prize-winning author who writes extensively on communism and the development of civil society in Central and Eastern Europe. She is a staff writer for The Atlantic and was a columnist for The Washington Post for fifteen years, as well as having served on The Washington Post's editorial board, and written for and edited a number of other prominent publications. Two of her books, Iron Curtain: The Crushing of Eastern Europe, 1944-1956 and Gulag: A History were National Book Award Finalists, and Gulag won the 2004 Pulitzer Prize for nonfiction. Her most recent book, Red Famine: Stalin's War on Ukraine won the 2018 Lionel Gerber Prize. Her next book, The Twilight of Democracy, will be published in July of 2020. She is also a Senior Fellow of International Affairs and Agora Fellow in Residence at the Johns Hopkins School of Advanced International Studies, and co-directs the London School of Economics' Arena, a program on disinformation. Applebaum has lectured at many of the world's most prestigious universities and held the Phillipe Roman Chair of History and International Relations at the London School of Economics from 2012 to 2013, as well as ran the Transitions Forum at the Legatum Institute in London from 2011-2015.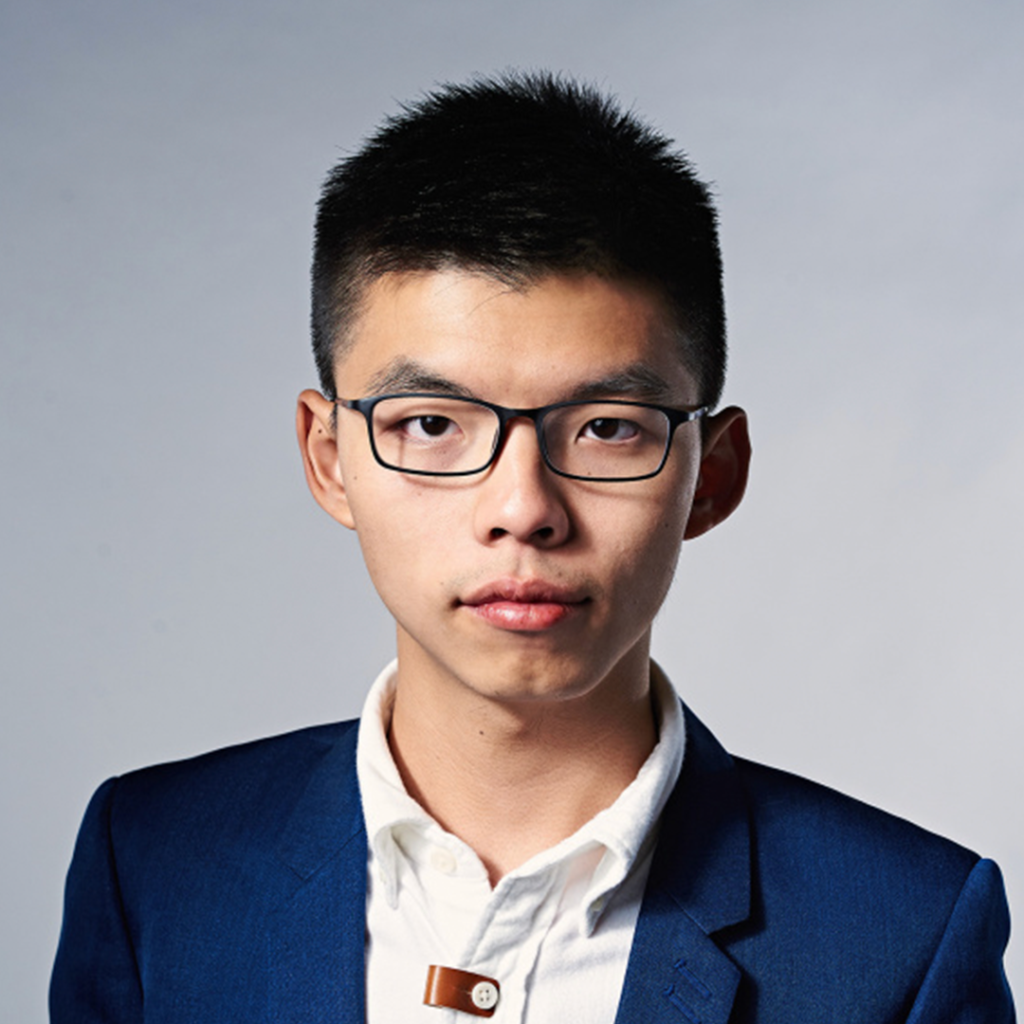 While Joshua Wong has been involved with activism for several years as a young teenager, he rose to international prominence for his involvement in Hong Kong's 2014 Umbrella Movement. Two months before Wong's 21st birthday, he was sentenced to jail for 6-8 months, becoming one of Hong Kong's first prisoners of conscience in the city's history. His activism towards safeguarding Hong Kong's democracy and civil liberties have inspired countless individuals around the world to stand up against authoritarianism. Joshua Wong was nominated for TIME Magazine's 2014 Person of the Year and for the Nobel Peace Prize in 2017.
Rania Aziz is a Sudanese activist who helped organize professional and youth groups in the country against Omar Hassan Ahmad al-Bashir's dictatorship. She is part of the Sudanese Professionals Association (SPA), the outlawed umbrella group of unions currently leading protests. She also works on women issues and is currently assisting female leaders working on Sudan's transitional government.
Péter Krekó is a social psychologist and political scientist. He is the executive director of Political Capital since 2011. Currently he is a Europe's Futures Visiting Fellow of the Institute for Human Sciences (IWM) and Erste Foundation, and an non-resident Associate Fellow at the Johns Hopkins University SAIS Bologna Institute of Policy Research. During 2016-2017 Péter worked as a Fulbright Visiting Professor in the United States at the Central Eurasian Studies Department of Indiana University. He focuses on Russian 'soft power' policies and political populism and extremism in Europe. He defended his thesis on the social psychology of conspiracy theories at the ELTE University in 2014. He was the co-chair of the PREVENT working group at the EU Radicalisation Awareness Network (RAN) between 2013 and 2016. He is the author of two books. The first is entitled The Hungarian Far Right, which was co-authored by Attila Juhász. The book was published by Ibidem Verlag in 2017 and it is being distributed by the Columbia University Press. His second book on fake news and conspiracy theories was published in Hungarian in 2018, becoming a social science best-seller. He is a regular commentator in the international media. He is the owner of Political Capital Institute.
Frances Hui is a journalism student and social activist based in Boston and Hong Kong. She focuses her reporting on Hong Kong-related topics, primarily feature stories about identity complexity and local cultures of Hong Kong. She went to the U.S. for her study in journalism and political science in 2016 but retains strong ties to her hometown. Her column "I am from Hong Kong, not China" was featured by international media outlets, including The Washington Post, The New York Times, BBC, and The Boston Globe. She helped launch international advocacy for Hong Kong before the anti-extradition movement and continued to gather forces of Hongkongers in Boston with more than 15 related rallies and events in raising awareness for the movement.
Mahmoud Farahmand is a Norwegian intelligence and security analyst originally from Iran. He came to Norway as a refugee in 1988. With a background as a Norwegian Army officer he has served in several conflict zones. He has studied Arabic and Middle Eastern studies in Egypt. He is a regional legislator for the Norwegian conservative party and a deputy member of the Norwegian parliament, where he chairs the party's Diversity Committee. He is currently employed as Senior Manager at BDO Security and Emergency Services in Norway.
Jenny Wang is a strategic advisor at the Human Rights Foundation, advising primarily on the Oslo Freedom Forum in Taiwan. She received her B.A. in Communications with a minor in Asian Studies at Rutgers University. Prior to joining the Human Rights Foundation, Jenny worked in the advertising industry for three years. She is currently a M.S. Candidate at the Center of Global Affairs at New York University, concentrating in Human Rights and International Law. Jenny is a grassroots organizer in the Taiwanese American community of Greater New York, and has been featured in international media news outlets such as Taipei Times, The News Lens, and NBC News.
Bobby Ghosh is a Bloomberg columnist and member of its Opinion editorial board. Ghosh was previously editor-in-chief of the Hindustan Times, India's third-most circulated publication; managing editor of Quartz, the business news website; and world editor of TIME Magazine, where he oversaw all of the magazine's international editions and reporters. He wrote for TIME for 16 years, covering events in Hong Kong, London, Baghdad, New York, and Washington, and worked as a CNN global affairs analyst from 2014 to 2016. Over the course of his career, Ghosh has covered a wide variety of subjects, including geopolitics, conflict, technology, sports, business, religion, and social trends. He writes on foreign affairs, with a special focus on the Middle East.
Alex Gladstein is Chief Strategy Officer at the Human Rights Foundation. He has also served as Vice President of Strategy for the Oslo Freedom Forum since its inception in 2009. In his work, Alex has connected hundreds of dissidents and civil society groups with business leaders, technologists, journalists, philanthropists, policymakers, and artists to promote free and open societies. Alex's writing and views on human rights and technology have appeared in media outlets across the world including The Atlantic, BBC, CNN, Fast Company, The Guardian, Monocle, The New Republic, The New York Times, NowThis, NPR, Quartz, TIME, The Wall Street Journal, and WIRED. He has spoken at universities ranging from MIT to Stanford, presented at the European Parliament and U.S. Department of State, and participated in Singularity University events around the world, where he serves as faculty and lectures on bitcoin and the future of money. He currently lives in the San Francisco area.
Masoumeh "Masih" Alinejad, is an Iranian-American journalist, author, and activist known for her criticism of the Iranian government. In 2014, Alinejad launched the My Stealthy Freedom Facebook page, which encouraged Iranian women to post pictures of themselves without a hijab, which she believes should be a matter of personal choice, rather than mandate; the following year, the Geneva Summit for Human Rights and Democracy awarded her its women's rights award for her work. In 2016, she launched an international boycott against the women's chess world championship, held in Tehran in 2017. Alinejad now works for Voice of America, Radio Farda, and IranWire.
Futurist, entrepreneur, investor, and founder of AngelList
Melissa is the New York-based editor of Spectator USA and the managing director of Ideas Beyond Borders (IBB), a non-profit organization devoted to empowering individuals with knowledge often suppressed by authoritarian regimes and dictatorships, with a strong focus on the Middle East. In particular, IBB translates, promotes and shares books about science, critical thinking, human rights, and pro-liberty ideas, making them freely available in Arabic, Farsi, and Kurdish.
With degrees in computational biology, she previously worked as a research scientist at the Broad Institute of MIT and Harvard, and then for a large biotech firm. Born in Singapore, she has always been very vocal about the necessity of free expression and education as guarantors of human rights and as a means to check the power of authoritarian institutions.
As a journalist, Melissa's writing has focused on China's rising economic and geopolitical influence, and the implications of both on freedom and democracy around the world. She's been on Fox News, the Rubin Report and the Joe Rogan Experience podcast speaking about these issues.
Dr. Yang Jianli is a Chinese scholar and human rights activist. He has been active in promoting democracy in China since the 1980's, and is a survivor of the 1989 Tiananmen Square pro-democracy protests. Dr. Yang was blacklisted by the Chinese government due to his participation. After escaping from China, he completed his Doctorate in Political Economy at Harvard University. Upon graduating, he returned to China to support labor activists, which led to his imprisonment by the Chinese government. In 2007, he was released due to pressure from the international community and the United States Congress. He returned to the United States where he founded Citizen Power Initiatives for China, an organization dedicated to the peaceful transition to democracy in China. Dr. Yang is the recipient of several international human rights awards such as the Truman-Reagan Medal of Freedom and the Morris Abram Human Rights Award.
Nanjala Nyabola is a writer and political analyst based in Nairobi, Kenya. Her work focuses on inequality, and the intersection between technology and politics around the world.
Ian Birrell is a British columnist, foreign correspondent, and contributing editor at the Mail on Sunday. His writing has been published in The Guardian, The Wall Street Journal, The Economist, and The Financial Times. Birrell has reported from Egypt, Equatorial Guinea, Iraq, Libya, North Korea, Pakistan, Russia, Somalia, Swaziland, Syria, and Zimbabwe, among many other countries. He served as deputy editor-in-chief of the The Independent for 12 years and has held senior executive positions at several other newspapers. In 2014, the London Press Club awarded the prestigious Edgar Wallace Award to Birrell. Birrell is also the co-founder of Africa Express, which promotes African music and unites musicians from around the world.
Bethany Allen-Ebrahimian is the China reporter at Axios. Before joining Axios, Bethany served as the lead reporter for the International Consortium of Investigative Journalists' China Cables project, a major leak of classified Chinese government documents revealing the inner workings of mass internment camps in Xinjiang. Previously, Bethany was an editor and contributing reporter at Foreign Policy magazine and a national security reporter at The Daily Beast. Bethany spent four years in China. She is now based in Washington, DC.
Based in Taiwan, William Yang is an East Asia Correspondent for Deutsche Welle. He is frequently interviewed by renowned global media organizations for his coverage on how China, Hong Kong and Taiwan have responded to COVID-19. Yang's reporting also focuses in-depth on various human rights issues in the Asia region, ranging from Taiwan's fight for marriage equality, pro-democracy demonstrations in Hong Kong, and the ongoing Uyghur crisis. Yang received his Bachelor of Arts in Foreign Languages & Literatures at Taiwan's Tunghai University, and his Master's in Journalism at Temple University.
Evan Mawarire is a civil rights and democracy activist, pastor, and leader of the #ThisFlag movement in Zimbabwe. Mawarire posted a video in April 2016 expressing frustration with the state of the nation and Robert Mugabe's dictatorship. In July 2016, the #ThisFlag campaign, led by Mawarire, mobilized citizens in a series of peaceful, countrywide protests against corruption, poverty, and abuse of public office. Mawarire was charged with attempting to overthrow the government but was acquitted two years later. In January 2019, Evan was again arrested at his home and charged with subversion for leading a countrywide protest against government corruption and the rising cost of living. He is yet to be tried and remains on bail with strict conditions.
Garry Kasparov is an outspoken advocate for human rights and democracy in Russia. Widely considered history's greatest chess player, Kasparov retired from the sport in 2005, to devote his time to writing and human rights activism. An ardent critic of Russian president Vladimir Putin, Kasparov created the United Civil Front, a social movement with the mission of preventing Russia from returning to totalitarianism. He joined The Other Russia, a pro-democracy coalition opposing Putin, and was a candidate in the 2008 Russian presidential race. He is a frequent contributor to major international publications including The Wall Street Journal and The New York Times. Kasparov is also a 2014 Templeton Leadership Fellow of the Atlas Network. In 2015 Kasparov published "Winter Is Coming: Why Vladimir Putin and the Enemies of the Free World Must Be Stopped" which he stated was a "push back against the rising tide of repressions coming from the Kremlin." (Washington Post, Dec. 2015). He is currently chairman of the Human Rights Foundation (HRF). Kasparov is frequently called upon to give his opinion on behalf of the HRF and is critical of both U.S. and Russian policies as well as repressive leaders throughout the world.
TK
Mr. Bass is the Founder and Chief Investment Officer of Hayman Capital Management, an investment manager of private funds focused on global event-driven opportunities.
Mr. Bass is a founding member of the Committee on the Present Danger: China. He is also Chairman of the Board of The Rule of Law Foundation (https://rolfoundation.org/). Mr. Bass is the former Chair of the Risk Committee of the Board of Directors of the University of Texas Investment Management Company (UTIMCO), which manages approximately $45 billion. Mr. Bass has testified as an expert witness before the U.S. House of Representatives, U.S. Senate, and the Financial Crisis Inquiry Commission. In 2015, Bass was recognized as one of the Top 25 Most Influential People in the Global Patent Market as named by Intellectual Asset Management magazine. Mr. Bass has lectured on global economics at various universities, including Columbia, Harvard, Stanford, UC Berkeley, University of Chicago, University of Texas, and the University of Virginia. Mr. Bass was the recipient of the 2019 Foreign Policy Association Medal for his responsible internationalism.
Before forming Hayman, Mr. Bass was a Managing Director at Legg Mason and a Senior Managing Director at Bear Stearns. He graduated from Texas Christian University with a degree in finance. Mr. Bass serves on the board of the Texas Department of Public Safety Foundation (www.texasdpsfoundation.org) and is on the advisory board of Predata, a machine learning and predicative analytics platform.
Philippa Thomas is a British journalist and news anchor for the BBC. Thomas presents daily news programmes for BBC World News television, and is a guest presenter for BBC World Service radio. She has reported over three decades from 25 countries around the world, including extensive coverage in the Americas, and assignments as a White House correspondent. She has moderated many events for the Human Rights Foundation over the last ten years, and has a particular interest in activist networks and untold stories.
Deputy to the National Assembly of Venezuela and Commissioner to the United Nations. Also Special Commissioner of Humanitarian Aid.
He is one of thirty-three members of the parliament who was sentenced by the unlawful Supreme Court and stripped of his immunity. At the United Nations Human Rights Council he exposes the crimes committed by Nicolás Maduro's dictatorship, coordinates the support of diplomatic missions to put pressure on the regime, and requests support to alleviate Venezuela's Complex Humanitarian Emergency.
Michelle Gulino is an international legal associate at the Human Rights Foundation, where she supports the Impact Litigation program and spearheads efforts on the Anti-Corruption Initiative. Her expertise is focused on international human rights, with a particular concentration in Africa, having worked across the continent. Michelle holds a J.D. from Georgetown University Law Center, an M.Litt in International Security Studies from the University of St Andrews, and graduated Phi Beta Kappa with a double B.A. in Political Science and Romance Languages & Literatures from Johns Hopkins University. She has served as a guest speaker and been featured in international media outlets on matters pertaining to crises in Africa and the Kremlin's political prisoners.
A human rights advocate and film producer, Thor Halvorssen founded the Human Rights Foundation in the spring of 2005. Thor began advocating for human rights in 1989 in London by organizing opposition to South African apartheid while in school. He is president of HRF, founder of the Oslo Freedom Forum, and patron of the Prague-based children's peace movement, the Centipede Children. Thor's opinions and views have appeared in the New York Times, Wall Street Journal, Foreign Policy, The Economist, TIME Magazine, New York Post, The Atlantic, and British GQ, as well as television outlets such as Al-Jazeera, CNN, Fox News, MSNBC, BBC and HBO. Halvorssen has produced several films that focus on freedom and human rights. He graduated from the University of Pennsylvania with concurrent undergraduate and graduate degrees in political science and history.
Journalists, activists, and
experts from the front lines
COVIDCon's speakers bring first-hand experience in how tyranny sparked and is exploiting the pandemic.
Years imprisoned for political charges
Register now to watch the live stream.